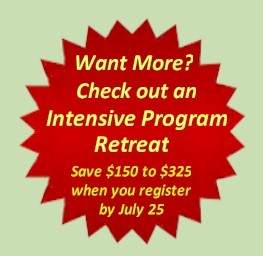 Curious about what kinds of life-changing insights and impacts New Depths offers?
Join us for one or more of these fascinating free telecalls, where we'll reveal some of the latest findings in brain science and how they empower us to create real healing and deeper relationships that are far more satisfying.
(To access all of our FREE audio and video resources, including recordings of past telecalls, click here.)
Do you always feel like you aren't enough?
Not good enough, not smart enough, not quick enough?
Are you afraid of making a mistake because every mistake makes you feel like a failure?
Is there a voice inside you that's always telling you that you need to try harder, do more, do better?
No matter how hard we try, there's no way to win the game of trying to be perfect. Lots of us flip back and forth between trying to be perfect and feeling like a failure. We have no middle ground.
Join Sarah and Susan on July 19 to find out how to create the middle ground where we find the experience of contentment, satisfaction and self-acceptance.
Click here to register. (Can't make it at that time? Register to receive a link to the call recording, available 3-7 days after the call date.)
(To access recordings of past telecalls, click here and then scroll down to Free Audios.)
Upcoming FREE New Depths Telecalls (all times Pacific):
September 8 (Thursday), 4:00-5:00pm, Producing Transformational Change